OUTREACH OPPORTUNITIES
Each month, Outreach at Church of the Nazarene, will highlight a ministry or non-profit that we partner with and provide ways that individuals, families, life groups, and the church community can support them. Click HERE to see or sign up for current opportunities for Outreach!
OPEN DOORS
The mission of Open Doors is to engage the community of Harrisonburg and Rockingham County in partnership to provide shelter, compassionate support, and access to services for people who are homeless. Please click HERE to sign up to help out in one or more of the following opportunities: cooks, cook helpers, transporters, lead server and servers. There are opportunities from October 2021 to April 2022.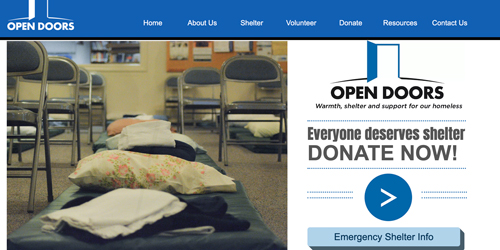 Volunteers provide countless volunteer hours, meals, snacks and more to the Open Doors program. More importantly, volunteers offer a sense of community, fellowship, and connection to those in our community who are often forgotten, ignored, and overlooked.
The Open Doors Shelter is open daily and has beds available for men and women over the age of 18
For one week each month, COTN Volunteers can prepare and serve meals to the guests at the shelter. We need team leads, cooks, cook helpers, transporters, and servers. Registration can be found on Church Center. For your convenience, registration is divided into the various months that we are serving. Click HERE to sign up to help!
During the month of December, we will be collecting items that are needed by the shelter and guests.
For more information on Open Doors, visit their website. Information about donating to Open Doors can be found here.
BEST WEEK EVER
Our mission statement states this, Transformed by God to bring hope to others through Christ! Best Week Ever is a great summer opportunity for our church to engage our community in tangible and relational ways. This is an opportunity to be love in action. Whether you are taking a week's vacation, or you just have an hour or two to spare, there is a place for you to make a difference. This is your church. In your community.
HOPE DISTRIBUTED
We are dedicated to supplying food, clothing, and furniture to individuals and families that are struggling financially, have been displaced, or who have experienced an unexpected challenge. For more information on how you can get involved with Hope Distributed, visit their website or call 1-540-578-3510.
STONE HAVEN
Stone Haven has a mission to walk alongside survivors of sexual exploitation in their journey of healing. We believe in safety, commitment, and honesty for every woman we plan to serve. Sexual exploitation and trafficking are a real + present threat in our community. These activities happen behind closed doors, but in plain sight. We pray the perpetrators are brought to light, and the survivors find the hope that is just as real + present. Learn more at stonehavenva.org.
The International Church of the Nazarene is a global network of local churches organized by districts, fields, and six regions (across 162 world areas). Click HERE for more information of what is happing around the world through our international church.
Let's turn this year into an unprecedented time of bringing hope to our community. For such a time as this, we can GO.